Qualisys Advances Animation Presence with iClone Plugin Capabilities
Qualisys Advances Animation Presence with iClone Plugin Capabilities
Gothenburg, 27 June 2019 -- Qualisys, the leading provider of precision motion capture technology and 3D tracking systems, today announced that a Qualisys Track Manager (QTM) plugin is now available for Reallusion's iClone 3D animation software.
Qualisys has a long history of supplying research, engineering and sports facilities with high-end camera systems and expertise. With many years of experience in the fields of biomechanics, virtual reality, robotics and movement sciences the company entered the animation market earlier this year with the launch of an integrated Skeleton solver for their QTM software.
Now, Qualisys has collaborated with 3D animation software and content developer Reallusion, to produce a dedicated QTM plugin for iClone's Motion LIVE platform.
QTM provides accurate mocap data in the form of optical markers, as well as solved characters where skeletal data can be streamed directly into game engines and realtime animation software.
Reallusion's iClone Motion LIVE system is a full body motion capture platform that allows 3D animators, movie previz artists, AR/VR and game developers to simultaneously mix and capture with multi-devices for face, body and hands. Motion LIVE's unique and easy workflow helps save time and budget for any type of virtual production or live performance capture.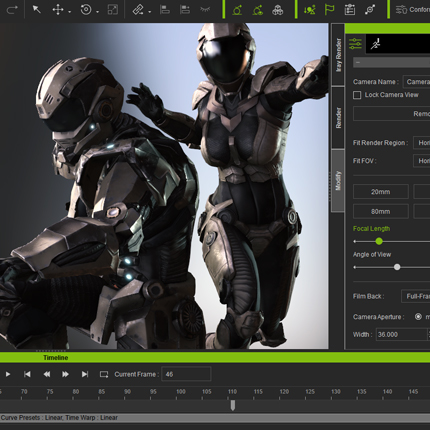 Watch the Motion LIVE demo video here.
The hardware developed by Qualisys is renowned for its reliability and versatility, capable of tracking motion in outdoor environments and tough weather conditions. It is also the only motion capture technology with the ability to perform when fully submerged in water.
Already renowned for the accuracy and reliability of their mocap solutions, the company has made great developments to the visualization aspect of their products in recent years, which has led to this new focus on the animation market. The integrated Skeleton Solver is the latest step towards QTM becoming the world's most complete software for motion capture.
"iClone is a great showcase for the power of QTM's mocap capabilities within the exciting, fast-paced world of animation," said Morgan Larsson - Software Development Lead at Qualisys. We look forward to a fantastic partnership that will bring cutting-edge 3D animation to new audiences."
"Qualisys's presence as the premier biometric capturing system makes it a perfect fit for iClone's realtime animation software and royalty-free content" said Enoc Burgos - Partnership Marketing Manager at Reallusion. "The combination of QTM and iClone will give movies, AAA and indie studios flexible, multi-capturing opportunities that will further streamline the industry."
---